Chapter 3
Nitya was fuming as she rode the Virar local that evening.
She had a tough time getting Naman to sleep after the classes fiasco and thankfully Sandhu didn't restrict Naman from attending classes next day. In fact he gave Naman a new project to develop a software to streamline the attendance system for all his branches. Naman was delighted but the morning's conundrum had drained him out.
After taking him to the local physician who was kind enough to handle Naman patiently in between his patient rush, since Naman couldn't tolerate chaos, she brought him home. After giving him lunch she gave him the pain killer and helped him sleep. She didn't ask Naman anything about what transpired since she didn't want to rile him up.
Requesting Kamble kaka to watch over him she decided to give Sajid a piece of her mind. How dare he go behind her back and manhandle Naman? And why? She had promised to give her answer in couple of days.
As the train rattled along Jogeshwari, the crowd had slightly lessened and Nitya got to sit close to the window. Watching the scenery fly by she was lost in thought.
Five years ago, she was a body double for a popular actress for an action scene. The shooting was in Film City, Goregan, and the travel often tired her out. However, because of her vigorous work out regime she had great stamina and shot the scenes with elegance throughout. However, that particular shot was extremely complicated and despite innumerable retakes Nitya wasn't able to execute it and eventually had bruises all over her arms and legs because of the harness that pulled at them. She was attended to by the on-site doctor and given pain killers. But unlike the actors she didn't have the luxury of a vanity van and waited in the shade for the shooting to resume.
Nitya was feeling giddy and just that morning she had an argument with her mother who wasn't answering her calls. The stress was taking its toll and she was on the verge of a breakdown.
It was then Sajid had come as a God-sent. He was the technological unit assistant for the production house and was on on-site duty that day. He brought her a glass of glucon D and also an umbrella which he held for her as she sat on the cloth recliner chair, he arranged for her.
They got talking and after the shoot that day which was eventually moved by a couple of days to give Nitya the needed time to recover, Sajid dropped her home. He stayed somewhere in Goregaon but rode his bike all the way to drop her. Nitya was usually a reserved person always aloof but that day she was too tired and stressed to refuse him.
After that, he was often seen during her shoots whenever the production house called her, till the movie got over. Sajid would take care of her like he did most of the junior artists on the set and Nitya was impressed. She had been in the industry for a while and no one cared about her ilk.
After that, one day, after a month Sajid called her.
"Hey Nitya… Sajid this side."
"How… how did you get this number?" Nitya wondered since she rarely shared her number with anyone.
"The production house has your details, remember?"
Nitya wondered why she was being so paranoid… but that's what life had taught her.
"Oh..ok. So, what's it Sajid?" Nitya came straight to the point. She didn't know any other way.
"Uh Nitya… I left that production house and have started my firm… different production houses outsource their technical requirements to me…."
"Wow, Sajid. That's awesome news. But it must have needed a lot of investment. The instruments are so expensive."
"What are loans for?" Sajid quipped and Nitya was surprised by the ease at which Sajid spoke about loans. There was not an iota of worry in his voice.
"Ok then… bye." Nitya had to rush.
"Wait Nitya…"
"Um… what is it Sajid?"
"Can we meet?"
Her guard was up as soon as he spoke those words.
"Why Sajid, you know I am busy and…" Nitya tried to put him off.
"Wait for a second Nitya, I won't pressurize you but I wanted to talk to you about work. You can help me since you are from the industry in a way."
"I am just a body double and know nothing about technology or computers for that matter…" It was true and Nitya often wondered if she was her parents' daughter who were computer experts… her father was a genius till everything fell apart…
"Nitya… let's meet just once. Please… your decided place and time ?" Sajid pleaded and Nitya didn't have the heart to refuse him given the help he had showered upon her during the shoot.
"Ok Sajid. I shall text you the location and time…" Nitya had relented.
What began as a simple work replated meet resulted in many more meets where Sajid got her work offers and good pay as well. Nitya wasn't complaining and she reduced the working hours at the gym taking up only select personal training accounts. It worked well because she was able to focus on Naman and her mother who had by now taken to bed after being heavily sedated.
Nitya still remembered the day clearly when her long-lost grandfather connected with them out of the blue after abandoning them for years. He had become a frail old man in his eighties and had delivered the package they had kept in their loft for years. Something about letting his guilt go away, he had said. It was a package her father had sent just before everything had gone downhill and had reached them a month later. But by then everything was destroyed….
The old man left as soon as he had arrived and her depressed mother further sank into its throes. She never emerged from the darkness and after that, the only time she remained quiet was when she was medicated to the t. Nitya hated her father from then on…  However, the parcel that contained a strange-looking prototype of a laptop interested Naman and he came out of his self-absorbed realm and took to it like a fish out of water. Nitya was grateful for little blessings. Naman was hooked and she realized he was a pro at software and coding from what it looked like.
Gradually she enrolled him in classes and workshops and he loved them. He began to smile more and began to get independent as well. That was a huge relief for Nitya and her anxiety levels reduced considerably.
Sajid was always there for her whenever she was down in the dumps and she was grateful he never made a move physically. She wasn't interested in a relationship… she wasn't attracted to him. She never had been before, being too busy all her life. Sajid was smart, handsome, and a little younger than her but still, he often said he liked her.
She still remembered their first official date six months after that phone call and she had slipped information about a dependent brother and a sick mother. Sajid wasn't repulsed at all… in fact he was sympathetic and assured her he would always be by her side whenever she needed him.
She liked being with him at times but never looked forward to their dates. She just wasn't girlfriend material.
Even the months of lockdown were easy because Sajid helped her get select personal training accounts and the money helped her sail through the heavy expenses without a steady income. He also arranged for vegetables and groceries to be delivered. Once her mother was infected and though She and Naman also tested positive they were at home but her mother needed to be hospitalized. Her frail body couldn't take it but Sajid arranged for a better hospital and even footed the bill. Nitya promised to pay him back and had been religiously doing it every month to date. She had almost paid him back completely.
All she felt for Sajid was gratitude.
Was she wrong? She didn't know anything about Sajid beyond what he told her. Sajid's parents were dead years ago and he lived with his uncles and their families, all of whom were in the dry fruit business. They were major suppliers to plush hotels and directly imported superior materials from the middle east. Sajid was not interested in the family business and they had helped him venture on his own. She hadn't met anyone in his family but he had once sent her a text inviting her for a family function and wanted her to meet his folks. She only had heard the name of his mansion once in passing. During the movie shoot she had overheard Sajid tell someone about real estate in Virar… since he lived there.
She had googled but hadn't received any information about it. Strange… in today's times.
Nitya was shaken out of her reverie as the train crossed Nallasopara and she stood in the nearly empty compartment to get off. She had to meet Sajid and end it all. She was grateful for his interest in her and also his help during crucial times in her life over the past five years. But what he did today was unacceptable. He shouldn't have involved Naman. That thought angered her and she took in deep breaths to calm down.
Alighting at the station she took up a shared rickshaw to take her to the desired location. All she knew was it was Mansood Minar, Virar. Everyone who shared the huge auto stared at her as if she had developed horns. She was the last person seated on the auto; it was dark already. She was wondering if she should have called Sajid and ended it all over the phone. But despite everything the man deserved a face-to-face talk.
"Beta kidhar ko jaana hai? (where do you want to go?)" the auto driver, an old man probably in his seventies asked her.
"Ye… Mansood Minaar jaana hai kaka…"
"Udhar pe kisko jaanti ho beta? (whom do you know there?)" the man seemed curious and Nitya's patience was hanging by a bare thread.
"Kyon pucha kaka?(why do you ask)" She asked.
The man only looked ahead in silence. After another fifteen minutes, they arrived in a secluded lane. Despite her bravado, Nitya was questioning her decision to come here…
Should she go back? No… not after all the trouble she took to get here.
"Beta bahut time lagega kya? Nahi tho wapas jaane ke liye rukta hu…(If you aren't taking long I shall wait for you to go back)" the man offered and Nitya was touched.
She nodded and requested him to wait for about fifteen minutes.
She scurried towards the lane wondering why was this placed so far away from the local area… as though isolated away and was surprised to see it lit up brightly. Many little children were playing around and were dressed in finery. It looked like a celebration.
Wait… what was that?
There stood a huge mansion overlooking everything around it, engulfed with glimmering lights of myriad patterns, almost blinding her.
She walked towards the mansion even and she saw men in sherwanis and designer skull caps welcoming people. The women guests were dazzling in their rich attire. As she turned to leave thinking about not intruding, her eyes fell on the placard placed at the entry and surrounded by orchids.
It read,
Sajid weds Ekra
That wasn't all…
Nitya was shocked to see innumerable tiny flags fluttering proudly on the Minar's side walls. Sajid had mentioned in passing, one of his uncles was a government servant and held a high office.
But what thunderstruck Nitya was, the flags weren't the Indian tricolor…
They were made up of a green field with a stylized tilted white crescent moon and five-pointed star at its center, and a vertical white stripe at its hoist-end.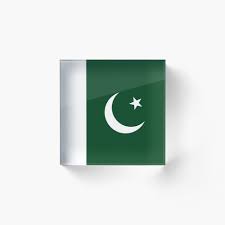 Nitya didn't know how she made it back to the auto and the next couple of hours before she reached home at around 1 AM… She hadn't eaten anything so she dry retched in the toilet.
She sat shivering folding her legs close to her body in the darkness.
"Who really are you Sajid…?" She whispered.
©priyagole